Welcome to the Randolph SPS page!
if you are looking for information on the RC Physics, Engineering and Environmental Programs, click here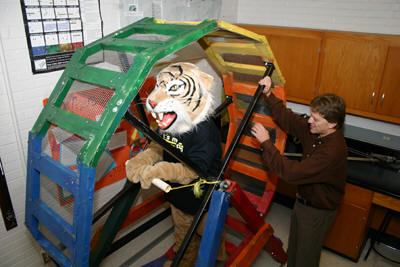 Congratulations to the Award Winning Randolph Chapter of SPS! Awarded National Outstanding Chapter Award for 11th year in a row (2017)!
---
Top Ten Physics Links for your browsing pleasure!
...Physics.org
...American Association of Physics Teachers
...comPADRE
...SPS National
...Physlink.com
...American Institute of Physics
...Summer Research Opportunities
open to the public, for children and adults
March 14 and March 22-25
---
SPS Videos on YouTube!
---
Our planned events for 2017-2018 include the t-shirt shooting robot, Hallowheels, trebuchet, the Science Festival, our popular campus Science Jeopardy, Smithsonian trip, amusement park trip, some regional Conferences, and more!
The next SPS meeting will be announced through e-mail.
Contact us!
Questions? Comments? Feeling lonely? Do you want to be on the SPS mailing list? If so, drop us a note at psheldon@randolphcollege.edu